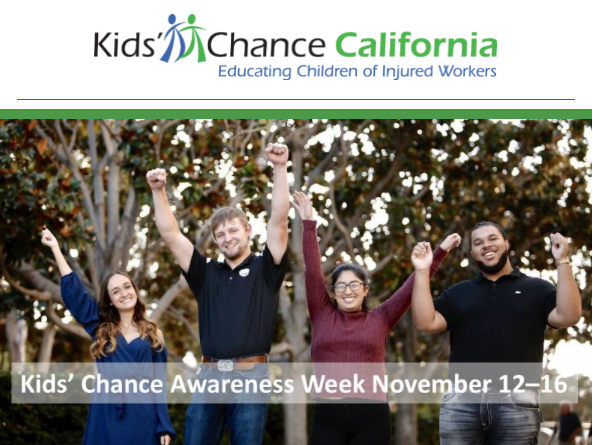 Kids' Chance Awareness Week is coming November 12-16. In recognition of this special week, we're extending our thanks to the sponsors of Kids' Chance of California (KCOCA) for your support in helping us fulfill the educational dreams of kids and families throughout California. With the help of our sponsors, we've raised over $679,000 in the last six years, with over $627,000 already dispersed or pledged to 43 students!

During Kids' Chance Awareness Week, we're asking you to help the KCOCA message reach the broadest audience possible, so we can help more kids achieve their dreams of a college education! We've created the Awareness Week Sponsor Toolkit below to make it easy to promote KCOCA within your organization, your professional network, and even among family or friends who might be interested in getting involved.
In addition to spreading the word about KCOCA, here are some other ways you and your colleagues can help KCOCA:
Refer qualified scholarship applicants to apply
Volunteer your time with Kids' Chance of California
Personal donation
Ask your organization for a corporate sponsorship donation
Conduct a fundraiser and donate the proceeds to KCOCA—here are a few ideas:
Host a pot-luck style bake sale
Paste KCOCA's logo and mission on a jar and create a change collection jar
Offer casual dress/jean day for colleagues who make a donation to KCO
Kids' Chance of California's mission is to provide need-based educational scholarships to the children of California workers who have been fatally or seriously injured on the job. For more information about Kids' Chance of California, visit kidschanceca.org, call (415) 877-KIDS or email info@kidschanceca.org.