I recently attended a Workers' Compensation Insurance Rating Bureau webinar that covered the class code changes for 2022, 2023 and 2024.
As promised in an earlier article, whenever the WCIRB telecommuter class code 8871 was covered, I would write an update.
The webinar had three great presenters with outstanding graphics, as usual, from the WCIRB.
If you have many restaurant-based clients or you are a restaurant owner or risk manager, the webinar covered the upcoming massive changes to many of the restaurant class codes, effective September 2024. The slide deck provided at the webinar was intensive and covered all the changes for three years.
You can register to see the on-demand webinar here.
From the WCIRB
USRP changes effective Sept. 1, 2022:
New companion classifications for two electronics industry group classifications.
Results of the standard exception study and its impact on classification 4512, biomedical research laboratories.
Tile and cabinet stores study.
Extension of payroll limited classifications.
Studies of several low-credibility classifications.
USRP changes effective Sept. 1, 2023:
Changes to Classification 9061, clubs, resulting in reassigning yacht club operations as well as overnight retreat facility operations and on-site clerical employees of retreat facilities.
Construction dual wage threshold changes.
Notable changes to several other classifications.
Upcoming food and beverage industry changes, effective Sept. 1, 2024:
Elimination of classification 9079(1), restaurants or taverns, and its constituents' reassignments to six new classifications.
Elimination of classification 9079(2), concessionaires, to establish a unique classification 9081(2), concessionaires, for consistency.
Telecommuter class code 8871 initial advisory rate
I usually look for any anomalies when covering webinars. This one, while based on preliminary results, provided a look at what happens to a new class code. As you may already know, advisory rates are not the actual rates insurance carriers will charge their insureds.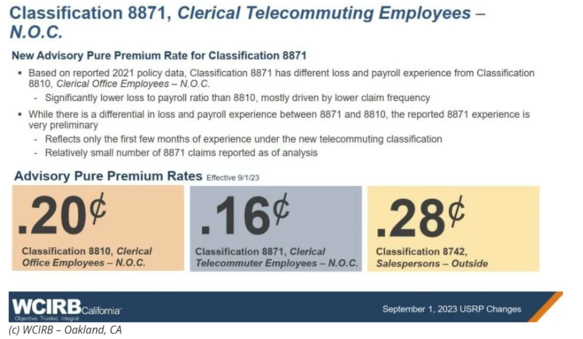 Bottom line
I recommend two things after reading this article: Sign up for the webinar on demand and download the associated slides and guides; watch the video, especially if you see any slides that pertain to your clients or your employer.
The restaurant class codes are changing quite a bit through combinations of codes. The WCIRB telecommuter class code 8871 is now in effect.
This blog post is provided by James Moore, AIC, MBA, ChFC, ARM, and is republished with permission from J&L Risk Management Consultants. Visit the full website at www.cutcompcosts.com.